Patti Gray
The Death of 'Monsewer' Eddy Gray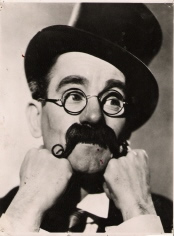 A famous Resident

'Monsewer' Eddie Gray an original member of the Crazy Gang, who spent a lifetime on the stage, making people laugh is dead.
In many ways he epitomised the music hall of the 30's with his deadpan act and handle-bar moustache. He was talented, dedicated and capable of captivating audiences of all kinds with his special kind of Billingsgate French and his great juggling act.
When he was nine years old his father apprenticed him to a juggling troupe called The Geraldos and was with them for six years.
He worked the halls for five shillings a night and in 1922-23 he went on a world tour with the incomparable Harry Lauder, Monsewer Eddie Gray had arrived and he achieved his greatest fame as one of the Grazy Gang at the London Palladium in 1931. He rejoined the end of their reign at the Victoria Palace and was in their last show in 1959.
He never gave up working and was one of the stars in the summer show at the Dome, Brighton and appeared with Harry H. Corbett and Susan Maughan.
When he went to see Elsie and Doris Waters in their summer show in Eastbourne on Friday he was called on to the stage and given a tremendous reception, which moved him deeply.
It was his last performance. He returned home and was taken ill that night and died on the 15th September, 1969
(an extract from his obituary by kind permission of the Shoreham Herald)..