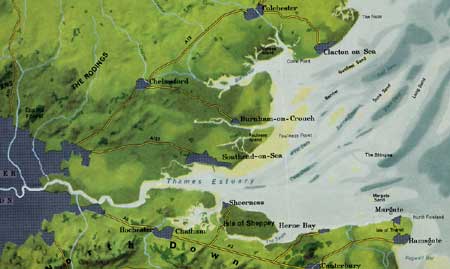 Essex, a county in the east of England, bounded by Suffolk, Cambridge, Hertfordshire and Middlesex; and separated from Kent by the Thames estuary.
It is about 54 miles long and 48 broad and is divided into 18 hundreds. It is fairly flat, yet sufficiently varied not to be monotonous; but, excepting at a few points, the coast is flat and marshy.

A reminder of the area's maritime past can still be seen in the harbours, piers and dockyards that line the wide estuary of the Thames. Much of the marshland bordering the estuary has suffered over the centuries from gradual subsidence or has been reclaimed for agricuture and industry, but there are still havens and backwaters to be found for the wildlife as well as for yachts and pleasurecraft.
Below is an extract from Thomas Moule's 1830's County Map of Essex, and alongside is a modern map detailing the area that the Vandervord family mainly lived during the 17th, 18th and19th centuries - from Southend-on-Sea to Canvey Island.