I have recorded below some reminiscences my parents shared with me about their family background. My father came from the Sturgis side of the family and my mother from the Davidsons.
Alice Sturgis 1906-1967, my father's mother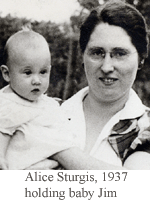 My Dad remembers his mother very fondly and her strong belief in the value of hard work comes across in his descriptions...
"Even when I was a young baby she went out teaching. My mother worked probably up until the war time then she had a lot of things to do in the house but when the war was over she started up teaching again, music teaching. She would go around the small local, rural schools and teach the children singing and music appreciation. So she did that all through her life pretty well. In terms of working mother, she was in advance of her times.
"She was very definitely a woman who championed her husband and she would see herself as being a defender of the interest of her husband and the family name. She was a champion of her husband and her husband's work but she was not a meek character. She was a fighter but knew when to retreat and not to attack unwisely. I think people liked my Mother more than they liked my Father. She was always known as "Mrs S" and she had a lot of admirers. She ran a choir and put on Gilbert and Sullivan programmes and she would order all these important men about.
"When she met my Father, it was a bit of a whirlwind romance that upset everybody's plans and two possible marriages. Music was what they had in common and that's when they were happiest together. I remember them being at the piano and they would be trying to work out how a particular passage worked but the further they got away from the piano the less happy they were…
"My Mother had tremendous energy and drive. She would always make sure that we had odd jobs to do, along with play you also had to work and to learn the intrinsic value that there was in working."
Harold Sturgis 1903-2000, my father's father

In July 1994 my Father interviewed his Father, Harold Sturgis who at the time was age 91. Here follows some excerpts from this interview in which he describes his childhood and his struggle to become a teacher.
"I took my first music lessons when I was around 9 I was taken into Woodstock.. by horse and buggy.. my mother considered learning music was part of my equipment for life. I was more or less immersed in music right from the beginning. I played at playing the piano on the chair.
I didn't like hard work and that's what the farm signified for me. I thought there must be an easier way. Money was very scarce and in order to go to high school I had to pick wild raspberries in the summer and picked up apples and took them to market so that I could get money to go to school. I lost a good deal of schooling through farmwork during the busy season in the spring my parents would take me out of school. It was during the early days of the war and my father couldn't get hired help on the farm and in those days you were allowed to leave school in the latter part of April, early May. Getting to school was a real struggle which only made me more determined than ever that I was going to get there.
Harold did finish his studies and indeed became the headmaster of the local high school. My father has admiration for this determination and rise from humble beginnings to an educated man with a profession:
"My father was a self-made individual who got his education gradually and turned himself into a teacher. He was an authoritative person and therefore suitable to head a school. No-one would take liberties with him. He was not an easy man to contradict though as a parent he was a bit distant."
Hugh Davidson 1909-1983, my mother's father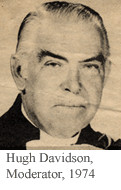 My Mother rememembers her father as an intellectual man whose involvement in the Presbyterian church had a big influence on their family life. Like my father's father he bettered himself through education...
"My Father was brilliantly clever. He went to a one- room school house and was the brilliant young farmer's son and he was a very, very able individual and his mother thought there was no better person in the world. His mother used to tell me how he used to sit in a little chair in the kitchen and spell things when he was two years old.
"They lived in a duplex in Toronto in 1937 and my Father was doing a Masters in Hebrew at the the University of Toronto because he had won a Hebrew prize and rather than go straight into a Presbyterian church somewhere he was encouraged to stay on and do this postgraduate course.
"During the war, he volunteered to join the Royal Canadian Airforce as a padre. He was wildly excited about it all because it was a huge adventure and it was the big adventure of his life, there's no doubt about it, Canadian country boy goes off to Europe.
"In the 1950's Dad was always going to Toronto for church meetings, he was already quite involved in central church committees and eventually he had a full time career in the church office and he became very influential.
"He was a very, very intellectual man and not like a born again, emotional Christian."
Margeret Davidson, 1913-1996, my mother's mother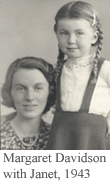 My mother's mother received a university education, unusual for a woman of her time...
"My mother went to University, to Victoria college and the university of Toronto which gave free tuition to clergymen's children. She did a degree in English and history and then wanted to be a librarian but this was during the depression and her family did not have enough money to put her through further training so she just had to stay home for a year. As a result, she was lifelong opposed to, not opposed to education but she believed that you should have some training because without training you couldn't necessarily get employment.
"She wanted to be a librarian. I can't imagine that she would have liked it if she had done it because she was much more vigorous than I can imagine you would be as a librarian. She was very, very sharp financially and ended her life as a whizzo investor with a limited amount of money. But she was very astute and had she lived today she would have been the director of a company or something like that.
"She met my father at University and married a year after she graduated. I found a little of diary of hers recently where she described meeting my father and said somethng like "Hugh's a real peach." They were a very well matched couple in many ways but she was impatient of his rather lavish, extravagant ways. She was very careful because she ran the budget and he would always give everybody huge slabs of roast beef at Sunday lunch and she used to say "Hugh, don't give everybody more than they can eat". But they were a well matched couple because they came from similar backgrounds and saw life the same way."