Finally, this section of the website provides some historical context for the migration story of my family and gives some brief historical details of the families' journey to Canada from the UK in the mid nineteenth century and then from Canada to the UK in the 1960s.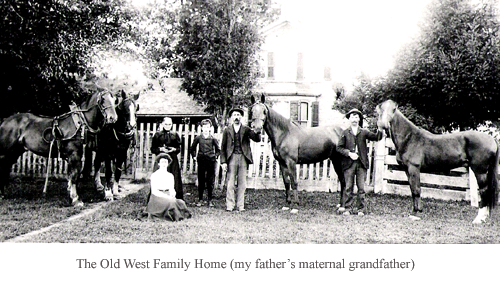 The Journey to Canada
A vivid account of the journey has been preserved in the family archives by my mother...
"It was about this time in the early fifties that all the early fifties that all the descendants of John Davidson, with the exception of his son Walter, emigrated with their families to Canada. The voyage was long and tedious, due to the fact they came by sailing vessels which took from eight to ten weeks to cross the Atlantic. After landing at Quebec they were forced to take smaller craft to Hamilton, their final destination......After securing suitable farms, they at once set to work to clear the forest and establish homes for themselves. By dint of hard work and that splendid community spirit which was evident on every hand, they soon became quite independent. Yet in all the struggles and hardships incident to pioneer days they did not forget to pass the same on to their descendants. All honour to the memories of those true-hearted, noble and God-fearing Highlanders who came from Easter Ross!"
The above extract from a letter by an unknown author found in the papers of May Davidson,(my mother's grandmother) describes the migration of the Davidson family from the Highlands of Scotland to Canada. Despite the fact that when my Mother was born in 1937 in Canada, her family had been living in Canada for three generations, the importance of Scottish roots was a dominant feature of her childhood.
Click on the audio panel below to listen to Janet describing this and read the transcript below
"Nobody talked about the old country, none of the people I ever knew talked about having been in England or Scotland, but they were very conscious that that's where they came from."
What was the significance of being Scottish?
"Oh God, it was the chosen race. There is no doubt about it that we were brought up with a strong sense of pride that we were, I mean we were so lucky to be Scottish. Because it was part of my background, it's hard to kind of realise how strong this was but I mean, being Scottish was majorly important, absolutely major..."
On the Sturgis side, there was less emphasis on the family "roots" though Jim's brother, "Bev" was named after "Beverley", the town in Yorkshire where one branch of his Mother's family had come from. On his maternal side Dad says the following:
"There are actually two books on the subject, one that deals with the emigration of the West family and they left Yorkshire in the late 1820's and they settled in London township and my Mother's Mother was a Patrick and they were actually from Ireland, Protestant Irish from Tipperary. This is fully documented in a book my cousin Calvin Patrick has written. There's quite a bit known about that side of the family. My father used to tease my Mother sometimes because she still had some Yorkshire traits, for example used to refer to her brother as "our Bill."
The Journey to England
My Mum and Dad left Canada for the first time in 1961. Mum describes her desire to travel abroad in the following way:
"I was very keen to leave Canada and see something of the world. Many of the friends that we had at University came, there were loads of us, we just sort of migrated because there was no restriction on emigration. If you were a commonwealth citizen you could just turn up in England and see how you got on. I definitely wanted to go somewhere else. I wasn't interested in studying and Jim was so our plan was that we would combine the two."
For my Dad, it was in part his studies which brought him to England:
"It was partly a practial reason, I was doing historical research and had to come to where the records were. Also, in 1961 when we came to the UK, it was an opportunity to have a different experience...I hardly ever travelled more than a circumference of 25 miles...so the idea of going to London was partly an experience of let's see what it's like living in this huge metropolis and then at the same time I'll study. Of course, also some of my very good friends were here, people we'd gone to university with....The University of Western Ontario had quite a bohemian grouping in the 1950's including Graeme Gibson, the husband of Margaret Atwood, John Hicks and Jim Jensen..so we had quite a little colony of people from the University of Western Ontario who were in London at that same time."
My Dad feels that migration is often brought about by a desire to improve oneself and to learn and develop from experiencing a different way of life:
"Success may well be brought about by leading a settled life but it may also be stimulated by moving family and home to completely different surroundings - in this way our family experienced a foretaste of the world that we are going to be living in."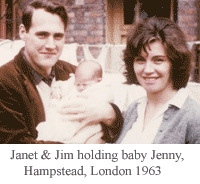 This sense of the over-riding importance of hard work and the need to improve oneself through education can be seen throughout my family history and very much reflects the pioneer spirit of my ancestors which has been kept alive through the generations.