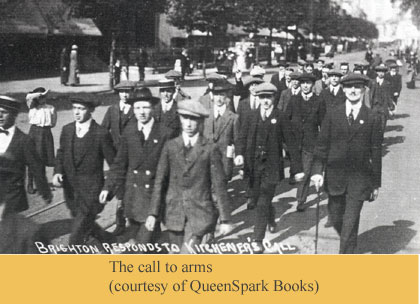 FIRST WORLD WAR 1914-1918
My aunt remembers seeing German prisoners-of-war during this period. The men were kept in Brooker Hall, the building which now houses Hove Museum in New Church Road, and every day they were marched up Sackville Road to work in the orchards and fields to the north of the Old Shoreham Road.
"We could hear them chattering to themselves, but of course in those days they were Germans, you see, and they were our enemies, and one day we were chattering away, going past, and they must have heard us coming and, I expect, feeling very kindly towards these children, one of them bumped himself up the fence – you could hear his boots on the fence – and threw us some apples, some lovely apples, which we took into the [Hove] park but were frightened to eat because they might be poisoned, because the Germans had given them to us, you see, and that was our attitude in those days."
"Had your parents warned you about them?"
"Oh no, it was just a childish thing, you know; I suppose one of us said 'ooh, we mustn't eat them' and that was it, you see, but I've often thought about the poor man who was throwing us the apples."
Mrs King's father, Fred, being unfit for active service owing to chest problems, served in the Royal Army Medical Corps for the duration of the war. Although he never talked to my aunt about his experiences, she remembered that one of his duties as a medical orderly was to accompany the hospital trains as they transferred the wounded from ship to hospital. Her mother, Fanny, used to go to Hove station to see them.
Mrs King's eldest brother, also named Fred, saw active service in the Royal Navy during the War. During the Battle of Jutland (May 1916) he was serving, aged 17, on H.M.S. Hercules, as a range-finder.
Because most men of working age had been conscripted into the Forces, the sight of a man in Hove during the war was a noteworthy occurrence. My aunt remembered when she and her friends saw one in Hove Park:
"During the war, there were never any men about, and you didn't like to see a man . . . I always remember we went up to the back of Hove Park, 3 or 4 of us, all chattering along, and we saw a man lying on the bank – perhaps he was home on leave – and we all stopped dead still and pointed 'There's a man!' (laughs) and we turned tail and ran! We didn't go anywhere near him."
There were also many half-finished buildings in Hove, the workmen having been called up, and on one occasion Mrs King and her brother Charles went to a building site in Wilbury Avenue and built themselves a little house with the bricks which had been left lying around.