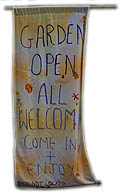 Hanover Community Centre
Ok, not strictly a pub, but they do have a beer festival once a year.

The beer festival and other fundraising events are vital to pay Brighton Council's rent, and also because age and the wear and tear that comes from constant use is taking its toll on the building, which was originally a Victorian school.

'The Community Centre is important because it provides, if you like, a heart to the area. If youíve got a Community Centre people then use it. It has a sense of Community and certainly with the beer festival thatís coming now itís a great evening. Iíve been supporting the beer festival for the last four or five years and itís a terrific evening. The nice thing is that mainly local people, but they also bring their friends. Itís an evening when the place is crowded, everyone has too much to drink, itís a smashing atmosphere, thereís never been any trouble, I think that says a lot for the area itself.'

Estate agent Barry Alderton (festival sponsor) speaking on The Line, a local cable TV show

Visit the Hanover Community Association web site!