How I came to Brighton
Was living in London, but hated being surrounded by miles of brick. Came to a party in Brighton 10 years ago; moved down 3 months later.

What I like about Brighton
The size of Brighton. From anywhere in the town, you can always see where the town ends - the sea or the Downs. Don't need to organise a social life too far in advance.

What I don't like about Brighton
The traffic. I'd love to see Brighton free of cars.

Other biographical information
Self-employed training consultant and multimedia designer. One of the tutors on the 'Make Multimedia History' course.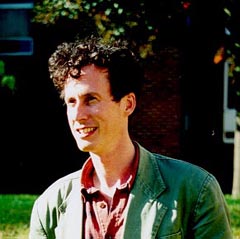 A WEEK IN MY LIFE! A taster of my work, a British tradition, and an ecological breakthrough. Look and learn.