Jean Davis, my mum was born in Brighton on 08.08.40. Nine years later her younger sister was born. As a baby and due to danger of the war years Jean went to live in Scotland and returned to Brighton when she was six years old. Jean married her husband Peter in 1969 and they had two children: me – Sharon born 30.11.70 and Julie born 26.05.73. We all lived in Brighton. Jean still lives there now.
Jean has worked in various roles ranging from shop work to factory work to bar work. She enjoyed her shop work especially designing and dressing the window displays. She worked full time until she had her children and then went to work part time only.
Jean retired in 1995 to help me after the birth of my twins. She now spends her time doing voluntary work for her local tenants association where she sits on various committees and attends many meetings in order to support her nearby community. She also likes to spend time with her grandchildren, eight year old twins William and Natasha.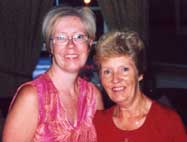 Claire Hollingsworth was born in Colchester in Essex on 26.03.69. She had one older sister who sadly died suddenly in 1993. Claire grew up in Colchester and moved to Ilford when she met her husband, David. They were married in 1989. They have two children; James born 17.02.89 and Holly born 12.12.92. They live in Clayhall in Essex.
Claire currently works as an Assistant Studio Manager for a recruitment company based in Farringdon, London and she has worked there for the past fourteen years. She enjoys her job and is very well respected within the company for her expertise in her field. She does however find the daily commute into the city pretty tough. At the time of the interview Claire was working flexible shifts to fit around her children. However, she has since increased her hours up to full time while her husband Dave has reduced his hours and now takes responsibility for most of the childcare.
Catherine Harwood was born in Germany on 06.01.72 and has one younger brother. She then moved between Germany and America until at the age of twelve, she settled in England with her mother and brother following her father's death. She married her husband Trevor in June 1996 and they have three children; Samuel born 03.03.96, Annabel born 8.11.00 and Matthew born 03.12.01. Annabel was sadly stillborn. At the time of the interview Catherine and her family were living in Seaford, East Sussex. However, in January 2004 they all moved to Phoenix in Arizona where they now live. Catherine has never considered England as her true home and therefore wanted to return to her roots in USA.
Catherine is not currently working though she has worked as a secretary, a Body Shop Consultant and Beauty Therapist in the past. She is taking time out to enjoy raising her family and may consider returning to paid employment once her family is complete and the children are all at school.
Click here for my final thoughts and acknowledgements.