Childhood
JULIE: I was born in Brighton, a local girlie.
ZOE: I lived in Hampshire until the age of nine and then my family moved to Sussex. I have one elder sister who is fourteen years older.
JEAN: I was born in Brighton. When I was first born I went to Scotland for six years and then I came back to Brighton – aged six. I have one sister, she's nine years younger than me … we are as different as chalk and cheese but we are a very close family.
Click here to listen: ... I remember always when I was a child that my Mum, used to have a ten pound provident cheque ... every Easter I used to have a new skirt, new shoes, new pair of white socks, new blouse ... and we thought that was absolutely wonderful.
CLAIRE: I have always lived in and around Colchester with my parents. I did have a sister who was three years older than me … but unfortunately she died nine years ago.
CATHERINE: I was born in Germany, Llandsthul but I have got dual nationality because my father was American … I lived there till I was eighteen months and then we moved to the States, Louisiana. My brother was born there and then we moved back to Germany and I lived there till I was six. Then we moved back to the States to live because my Dad was in the army. I lived in America till I was twelve and then my Mum decided to move home to England.
My Mum's from Liverpool. I came back with my Mum and my Grandmother who was living with us because my Father died when I was ten so my Mum decided she wanted to come home to be closer to her family. I was really excited about coming back to England because we had lots of family here and I was looking forward to seeing them again.
I think I adjusted well, my Mum said that I picked up the language really well and the spellings because there were a lot spellings that were different. I adjusted to that really well but it was hard ... I was glad to leave school … I didn't tell my Mum, I kept a lot of it to myself because I didn't want to upset her because we'd made this massive move and she found it hard, so … I kept a lot of things from her. I was really unhappy at school. I missed my friends. She wasn't happier … she says it was the biggest mistake she ever made, coming back …

Did your Mum work when you were young?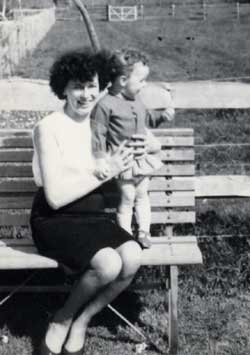 JULIE: Well, she didn't but my Dad died when I was eleven, my dad died of cancer and before that she didn't work at all - she'd worked at Woolworths in Seaford up until I was born … then after Dad died, she had to work - for the money, I mean she didn't have any choice. She wasn't particularly comfortable about it - you know, but I had started secondary school by then and so she went … she went to work in the office at Bevan Funnell, the furniture factory in Newhaven, their offices … she used to start early and she used to finish at - I think about four o'clock as far as I can remember but she had a bit of a problem with this because Tideway, the school that I went to, had continental hours so we used to finish about half past one, two o'clock … she did get really worried, I remember, about the fact that I was coming home … I remember her getting upset and saying 'I don't want you to be a latchkey kid!' Of course, she was very upset about dad anyway.
Click here to listen: I do remember as well, being a bit shocked even when I was little, when she was at home when I was small, my uncle used to offer to take us out somewhere for the afternoon, she wouldn't go because she wanted to be back to cook my Dad's tea - but that wasn't Dad. Dad wasn't the sort who would say to her, I know some men would …some of my friends' husbands still do that now, … say 'I want my dinner on the table' but Dad wasn't like that but she still felt that because she was at home, she couldn't go out, she ought to be there to have his dinner ready for him when he came in.
ZOE: Yes, she did work. When I was young … I remember her distributing leaflets around about free samples of washing powder and toothpaste and things. And then when we moved to Sussex she had cleaning jobs or temping jobs in the office. I don't remember it ever being an issue that 'oh my Mum's working again' or anything like that. She was always there when I came home from school.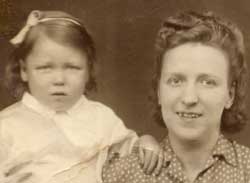 JEAN: Click here to listen My Mum's always worked, always worked in the laundry all her life … my Nan used to look after us … full time … my Nan used to make such a fuss of us and that, you didn't realise that your Mother wasn't there because we were a very close family when we were younger. We always had aunties and uncles popping in and so really, Mum going out to work … she didn't deprive us of anything by going out to work, she just wanted to give us a better life …

CLAIRE: I don't remember when I was very young whether she actually worked but when I was a bit older … she did … she worked in a University and in school holidays I used to go into work with her … it was a part time job … because I had a sister, we would always be together, going to school and coming home from school so as long as I had her then that was fine.
CATHERINE: She did. I don't think she did when we were small. I can't really remember. She didn't when we lived in Germany and then Louisiana. I think it was when we moved to Kansas … that's when my Gran moved over and we lived in Kansas and I think that's when she went back to work.
I had always been really close to my Gran because she moved out to the States to live with us when I was six because my Mum and Dad both wanted to work so she was like our mother. She looked after both of us … I think they wanted to have bigger and better and it required both of them to work ...
I was really close to my Gran and I just remember my mum being this really pretty lady that used to just go to work, I just, I wanted to be like her, she was really beautiful. She always looked really nice, but I don't remember being really close to her. My Gran was sweet, I was close to my Gran but I don't remember having any kind of closeness with my Mum.