Family Life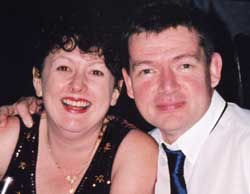 JULIE: My husband … is really good … if I am ill he will take the children to school and perhaps go to work obviously, but then come home in enough time to pick them up … He works for the NHS, he is a computer programmer ... and his boss … is very very understanding of Andrew's needs. But Andrew is willing to do it himself as well. I can't remember who it was, somebody said to me recently that 'oh, you're lucky that he takes the children to school for you - my husband wouldn't do that unless I was dying.'
Of course, he has to put the boys to bed every night that I am working ... They do have a bit of a fight over who mummy's going to put to bed on my nights off but now they have got used to it and I do say to them, the alternative is mummy not being here to pick you up from school and you having to go to ...an after school club like some of the other children and they say 'Oh no, we like you taking us to school and picking us up' so they are old enough now to understand, so although there is the odd complaint 'Oh, are you going to work?' they understand the alternatives. It is a bit embarrassing really because they actually tell some people that mummy goes out to work at night and earns lots of money!
When we were both working before we had the children we shared everything; washing up, hoovering, dusting, the only thing he doesn't do is cook … he always washes my car for me ... It's interesting that because I am at home during the day I feel now as if I ought to do more of that although in some ways I am just as busy because I have got the PTFA ... and the parties don't just stop at doing the evening work. There are orders to process, I don't do deliveries on the whole but occasionally there are deliveries to make and daytime parties so I am busy in the daytime as well but there's some little bit inside of me that says 'you're at home - you ought to be hoovering and dusting and cleaning!'
I think I said this before, but with the husband and children that I have, I do consider myself to be extremely lucky and I think I am very fortunate in that there is virtually nothing in my life that I would wish to change.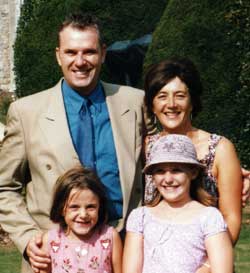 ZOE: My family is my lifeline. My husband is my lover, best friend and the one I confide in, he is the only person who truly knows me. He doesn't always understand why I think, feel, do the things I do but he is always there to support me. We work in partnership as parents to out two daughters.
Click here to listen: Terry cooks … he will also do the weekly shopping, he can easily run the household if I am not here ... Terry will go and see their Christmas concerts, always comes to parents evenings with me. Tonight we are going to a numeracy evening and we are both going and nanny is coming to baby-sit … the homework works quite nicely in this house because I am stronger in literacy so I do the literacy homework with the children and Terry is stronger in numeracy and he generally does the numeracy homework. That's the way it works at the moment but they are only primary.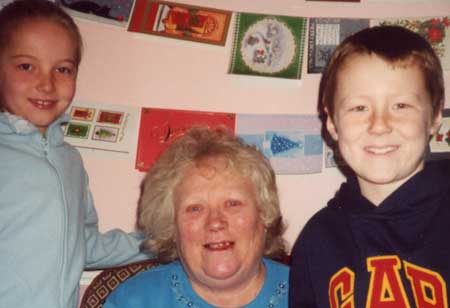 JEAN: We struggled with money but it's wonderful when the children come along and you see them grow up … into nice young ladies. I was quite happy because I used to be with you all day and then just go out in the evenings and on a Saturday, I used to work and Dad used to look after you. Peter does the hoovering, keeps the place tidy. All I do is the washing and the ironing... We do the cooking between us. When Peter was working … I did all the cooking and cleaning.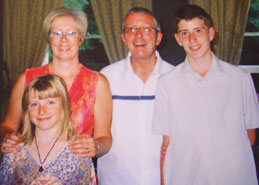 CLAIRE: Click here to listen: We always do our monthly shopping as soon as I have been paid, we'll always go out as a family so that we can all choose the food that we want ... Whoever is on … an early day of going into work early, finishing early, after we've picked up James and Holly from school then whoever it is, whether it's Dave or me, will make the sandwiches, do the washing and do the ironing, cook dinner and things like that. But it is mainly me that will do the housework and I don't mind, I enjoy doing the housework ...
... Holly … that's been in a play at assembly ... I think it was one year it happened to be my day to take her to school so I stayed behind ... and watched the play and this year happened to be Dave so he stayed behind and watched the play. She understands that it can't be both of us and she's very good about that but we always make sure that there is going to be one of us there to watch it and if it's a play in the evening then we will try and both be there for it. We both help with the homework. I'm more strict with homework, I like it done there and then while it's still in their heads. Holly is very very good and will always sit down and do her homework the day that she gets it. With James it's a little bit harder, we have to push him but it's whoever is home will sit down with him and do his homework ...also we check his homework at the end and every night I check his school bag for the following day to make sure that he's got the correct books in his bag.
We would like to do more things as a family because we feel quite guilty when we are out at work all the time … so this is our chance to make it up and actually be with them at weekends.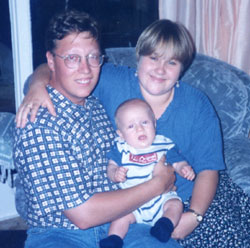 CATHERINE: …When I was in hospital having Matthew he (Trevor) kept the house perfect. I will brush up and hoover up every day … but I don't expect him to do that because he does all the DIY and the maintenance and the garden ... He does all those sorts of things but he shares with the kids. He shares, he'll come home and we'll do dinner, I'll clear up and he'll take the kids up and start getting their bath ready. He doesn't get on with anything he wants to do until they're in bed which is good …he reads to Matt every night ... Matthew's a real daddy's boy. …they have both been happy to go to either one of us which has been really … nice because I think dads can miss out on that but I've always tried to share them, right from when Sam was born I always made sure, Trevor used to do the weekend shift. He'd get up on a Friday and Saturday night and do Sam's bottles ... yes, he's always shared … he's really into his kids ...
They are really good fun, it's nice. I love being a family now ... I feel like we're ok because there are four of us now. It's ... a really nice feeling ... we're normal again. Hey, it's just so nice to be normal, to be looked at, 'oh look at them, look at that nice family.' It's really nice.