T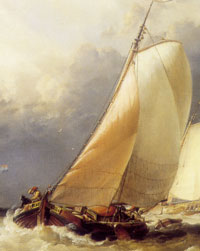 hames Barges were basically made of wood until the middle of the 19th Century, when a few were made of iron, and after the 1880's quite a number were made of steel. All were flat bottomed, with a flat, or flush deck and a shallow hull. A chine (the angle between the side and the bottom) ran for much of the length amidships merging into a shaped bow and a transom stern. The barges usually had one hold with two hatches, the smaller one towards the bow and the larger towards the stern, behind the mast. These hatches were closed with wooded covers and battened tarpaulins to keep out the wind, the rain and the sea.
To aid in the sailing (particularly to windward) of these shallow draft barges, leeboards were added to each side of the hull. These were like large wooden paddles which were pivoted at deck level and hauled up or lowered by pendants operated by hand winches on deck.
Many skippers had no paper qualifications, but were excellent practical seamen having learnt their trade as boys. Their skill in handling the barges in all conditions was often remarked upon by other members of the sailing or seafaring community. Most of them had the uncanny knack of recognising the ownership of a barge at sea and deciding what port she hailed from and who had built her.
Different builders from different areas gave their barges recognisable traits - to name just a few