Inside Guide to Brighton & Hove
Lewes - Railway Land Local Nature Reserve

HOW TO GET THERE
Take the train from Brighton, leave the station via the carpark, stroll along Friars Walk past All Saints Centre. At the roundabout turn right, and walk towards the riverside buildings. Turn right into Railway Lane. The entrance,an old railway crossing gate with a red bulls eye is straight ahead. From the bus station, walk through the precinct and down the lane beside Forfars, and walk straight alongside the riverside buildings to the bulls eye gate.

ABOUT ME
Go to my home page HERE or click on my photo to hear my voice.

ANOTHER CHOICE
Go back and pick another recommendation from the Inside Guide .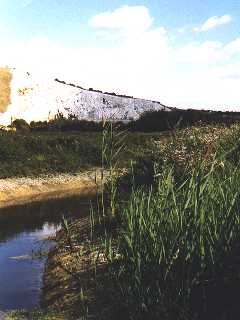 A 25 acre wildlife haven, close to Lewes town centre
"Our restored signal box bird hide was ready for use early this year. It is the culmination of ten years of community co-operation and hours of volunteer work.

I go to the Railway Land to see birds and marsh frogs, but others are interested in insects and flora. We have an interesting area of woodland, there is an overgrown stew pond and the remains of a Victorian garden. There is an all weather pathway and access for disabled people across the length of the site and into the signal box.

This Reserve is the first with a Junior Management Board, with representatives drawn from local schools. They are planning an opening for next Spring.

The Ranger, Annabelle Kennedy, runs working parties most Wednesday afternoons. She can be contacted at the Council Offices at Southover House, which is near to the Car Park exit into Station Street. She has been planting reed rootstock along a newly enlarged ditch in the centre of the site, which has been cleared from other reserve sites in Sussex. The enlargement of the remaining remnant of reed bed on site is one of the projects for next year."