Contributor to the Inside Guide to Brighton & Hove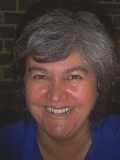 "People and places have shaped my life. As a North Londoner for forty four years and a Lewesian for the last seven, I'm a newcomer tapping into rich historical and geographical veins. I love the chalk landscape, and brought countless London kids on Field Trips and Camps, little realising that later, I would make this area my home."
"Geographers are natural diversifiers, so becoming a Pastoral Head, teaching English and later developing IT skills seemed perfectly normal. I now work part-time, with statemented students and computers can be great for motivation and achievement. This picture of Jason and John, two trusty helpers, represents a working life with young people and their families in Hackney and Islington."
"There's nothing nicer than relaxing with friends and good food. This posy shot of Glyndebourne illustrates my pleasure in organising events, cooking, eating, drinking, laughing and talking with friends. Alternatives could have been - me at my beloved Spurs in full regalia, or resplendent in tennis shorts..but that might have revealed the zanier side of my nature."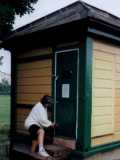 " As secretary of the Railway Land Wildlife Trust in Lewes, I've contributed to a co-operative local project. I write, edit and produce the Newsletters and am very proud that after ten years of community action, this signal box bird hide, has been opened for public use on the Lewes Railway Land Local Nature Reserve. This summer (98) we watched three fledgling peregrine falcons learn to fly and hunt. Find out more about the Trust and the Reserve on the next page."


My recommendation for the Inside Guide to Brighton & Hove:
Lewes Railway Land Local Nature Reserve:a 25 acre wildlife haven close to the town centre