Contributor to the Inside Guide to Brighton & Hove .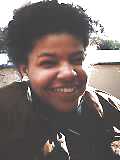 "I am 36 years old and am originally from Birmingham. I moved down to Brighton from London in 1997 and have continued to work there part-time. I am a German teacher at City & Islington College Sixth Form Centre in North London. This photo was taken on an exchange visit a few years ago."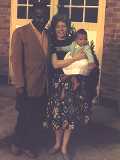 "My early life was very much defined by the experience of being a mixed race child in the all-white outskirts of Birmingham in the 1960s. I was the only black child of any description at school (best cast her as a tree in the nativity), at ballet (spoilt the effect of the chorus line) and in the street where our happy family lived."
"I spent a total of seven years living abroad. At 18 I went to live in Germany as an au-pair, then to Paris for more of the same. I also spent a glorious couple of years in the Caribbean messing about on boats. During these years I learnt a great deal about other cultures, and my interest in languages was born."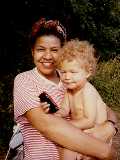 "Probably the most important part of my life is being a mother. Having my first child was what finally focused me and prompted me to do the degree I had been threatening to do for the previous 10 years. After another gap of almost 10 years, I have taken the plunge again and now have a baby of 4 months, a huge reajustment, but really wonderful."


My recommendation for the Inside Guide to Brighton & Hove:
Stanmer Park and village: a wonderful place to walk and eat.