Images of Brighton life
Mandy Collison

Pub quiz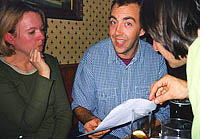 This was taken at a pub quiz in the Walmer Castle pub in Hanover. It's some of my friends arguing over what answer they think is right. There's a lot of pub quizzes in Brighton. There seems to be one 'quizmaster' who sets all of them and they all go on at the same time on Sunday evening in various pubs around Brighton. It's quite lively, people tend to argue a lot over the answers to the questions and it can get quite competitive. We didn't win! This week we came fifth.

Yoga
This is my yoga teacher Jean. I've being doing yoga for only a couple of months and find it really relaxing. After you've done a couple of hours of yoga you feel like you've been swimming and done some meditation as well. It's really good because I'm not a very sporty person and with yoga you can really work at your own pace. I feel like it has already improved my posture and general well-being!

Commuting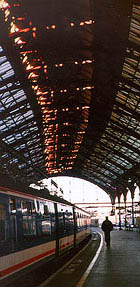 This photo is of Brighton station. I seem to spend a lot of time in the station and on trains! I commute to Chichester which is about 30 miles away. I used to commute to London which is 60 miles away. The London to Brighton line is a big part of Brighton I think. A lot of people commute out of the town by train because there isn't an awful lot of work here. There are some changes going on at the station at the moment. You can see it's got a really nice Victorian roof but they're renovating it because a lot of it has been smashed and is not in very good condition.