Inside Guide to Brighton & Hove
Public Footpath from Stanmer Park to Lewes

HOW TO GET THERE
Take the No 25 Bus to Sussex University and get off either at Stanmer Park or the entrance to the University. For more detailed information, click here

ANOTHER CHOICE
Go back and pick another recommendation from the Inside Guide .

ABOUT ME
Find out more here or click on my photo to hear my voice.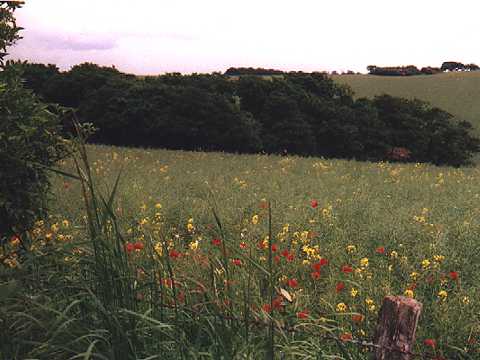 The scenery in June
I like going for walks. There is usually plenty of fresh air around, not too much noise and good time to chat with who ever comes along. It also makes me see the landscape from a different perspective and at the end of the day I am usually tired and content. Public Footpaths are quite special for this country, there is nothing like that in Germany. For me it's fun to walk across fields and over fences, but I can also see that farmers are not always too positively excited about this, hence there is an ongoing dispute about the century-old "right of way". Anyway, if you are interested in any other walks around Brighton, then you should go and get the leaflet "Trails by Rail" from Brighton Station. It gives you directions for 9 walks that you can do by foot and rail.