the Perry Stone band | demos | publicity
Interview with Perry Stone
What is your musical background?

"I always enjoyed singing from a young age. I think I was about five when my grandparents gave me a cane like a stick. I knew the song 'Hello Dolly'. I used to sing it to my grandparents and my father and they used to give me money afterwards. Then any opportunity I got to sing, I would do so."
Who are the other members of the band?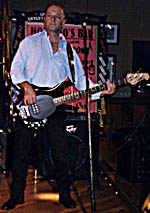 "There are three other members apart from myself. On the bass guitar is David Taylor - he has been around for years. He used to be professional and he had a hit in the top ten many years ago back in the 70's. On guitar, we have got Steve Underhill. He is a guitar teacher. He is the newest member of the band. On drums, we've got Daniel Nash. He has been with the band the longest, over a year now."
How did you get together?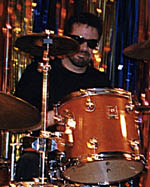 "I spoke to two friends of mine, one a drummer, one a guitarist. We hoped to get together and find a bass guitarist to start the band. As it turned out, the two friends and I did not start the band together. In the end, I actually advertised for the drummer and the guitarist, and I knew a friend who was a bass guitarist! That is how we originally started."