Kate Williams:
Images from my life
Lewes Bonfire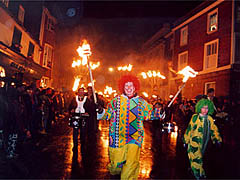 Every year on 5th November, there are processions, bonfires and fireworks all over Britain. This is in honour of Guy Fawkes, a historical figure famous for attempting to blow up the Houses of Parliament. The tradition is that people burn effigies of Guy Fawkes, and any other people they see as villains of our time. Lewes, a small town near Brighton, takes its Bonfire Night particularly seriously. Thousands of people crowd its narrow streets to see all the burning torches and costumes of the Bonfire Societies, who compete with each other over the size of their fires and firework displays at the end of the night. The photo was kindly given to me by The Sussex Express.
The Beach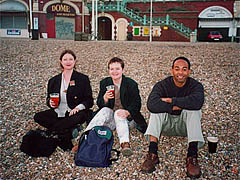 This is a picture taken on the sea-front. I am sitting on the beach with my partner Dan and my friend Siranda from Australia. We are having a beer that we bought in a pub behind. I love to go down on the beach, it's one of the reason I like to be here in Brighton, but I particularly like going down to the sea-front when I feel like it belongs to the Brighton people. In the summer and on Bank holidays, the town is absolutely swarming with visitors and I tend to stay away from the sea-front, but then on spring and autumn sunny afternoons, and even in the winter for a walk, you feel like you can reclaim it again. It belongs to the people of Brighton again. So I like it then.
Weddings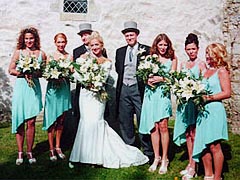 I've been invited to a lot of weddings over the last couple of years and, from skeptical beginnings, I've come to love them. Weddings are great rituals and celebrations, full of tradition, emotion and alcohol. They're monumentally difficult to organise, with the build up of stress almost matching the build up of excitement. There's always family politics to deal with; Auntie So-and-so hasn't spoken to Uncle Thingy for years and they're absolutely NOT to be seated on the same table. And someone is bound to behave badly in front of Granny at the reception. But I think the behaving badly at the reception is what I love about weddings. Everyone, from all the generations, lets their hair down together. The picture is Elaine and Pete plus bridemaids and best man.
What now?